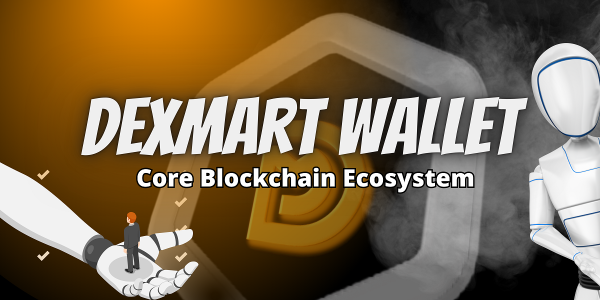 Dexmart is a decentralized wallet that focuses on the core blockchain and its ecosystem. As in general wallets, dexmart wallet is a storage medium for cryptocurrency assets, but in this case, dexmart wallet only focuses on the blockchain core and its ecosystem. Sending core coins, receiving core coins, accessing web3 with Dexmart space.
Dexmart Wallet for you, if you have the following problems to solve
• Your personal information is never collected
• Swap your core without leaving the app Keep your core safe from hackers & scammers
• Keep track of core charts, and core prices in the wallet
• Earn more when you hold
Dexmart Wallet is the first product developed by Dexmart Company Group, Ltd. United Kingdom (UK) based startup company focuses on decentralized blockchain development and web3 development.
Dexmart Company Group, Ltd,
CEO Callum Kenneth Rooke said, It is important to have a wallet that focuses on one blockchain, because the core blockchain can be said to be a new blockchain and is developing its ecosystem.
Indeed, basically the core blokchain is the EVM Blockchain but by centralizing its ecosystem with one wallet it can make it easier for users or core blockchain holders to find their ecosystem and see the development of its ecosystem, as was done by predecessor blockchains such as Binance smart chain (BSC) with a trust wallet. Ethereum (ETH) with metamask , solana with phantom , and other predecessor blockchains.
Our vision is to make it easy for all users, holders and loyal followers of core blokchain , to make it easy to access their assets, so that they can manage their assets with pride, that there is a wallet specially present for them.
Our mission is to highlight all ecosystems of the core blockchain, so that all users, holders and followers of core blokchain can see the development of the core blockchain ecosystem, so that they can raise public demand.
In the ongoing development of the blockchain ecosystem, it is important to be careful in determining which ecosystem we want to invest in.
Because cryptocurrency with its blockchain is open source, anyone can develop it, anyone can build it, creating an ecosystem like anything can be done. the prevalence of fraud and abuse by certain parties taking advantage of this situation must have occurred a lot. So it is very important for anyone to do you own Research (DYOR) , read carefully and examine how a project can work with the products offered.
Media Contact
Company Name: Dexmart Company Group, Ltd
Email: Send Email
Address:15 Morris Avenue, Warrington
City: Cheshire WA4 1SG
Country: United Kingdom
Website: www.dexmart.online