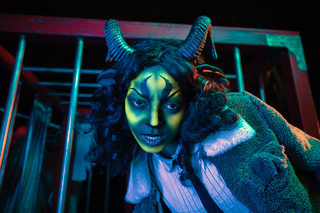 PASADENA, CA - September 15, 2023 - When Pennsylvania's Hersheypark committed to launching a world-class Halloween haunt event last year, it turned to Pasadena-based Zeitgeist Design & Production to develop three immersive and story-rich haunted houses inspired by local Pennsylvania legends: "Haunted Coal Mine," "Creature Chaos," and "Twisted Darkness." The result was rave reviews across the social media spectrum and a successful launch of a new annual tradition for the candy-themed family destination.
For 2023, Hersheypark has further invested to enhance all three of Zeitgeist's houses with more of the original design intent, including the addition of the Tommyknockers storyline and characters throughout the newly titled "Haunted Coal Mine: Curse of the Tommyknockers," new hungry cryptozoological beasts inside "Creatures Uncaged," and even more mis-told fortunes and freaks inside the re-named "Twisted Carnevil."
In addition, Zeitgeist returned to develop a number of characters for a new radioactive "Fallout Zone" scare zone.
Led by location-based entertainment industry veterans Ryan Harmon and Joe Lanzisero, the Zeitgeist team tapped into its nearly four decades of worldwide theme park and attraction design and production experience to take modern Halloween walk-through attractions and characters to the next level for Hersheypark.
"We were very happy with the Zeitgeist houses last year," said Brewer Lister, Hersheypark's managing director of marketing. "This year we were able to "plus" up all three with more story and scares. Things have evolved with new monsters, new corridors, and new surprises, making Hersheypark Dark Nights even more darker for 2023!"
"Haunted Coal Mine: Curse of the Tommyknockers" invites guests deep inside an abandoned Pennsylvania mineshaft where mischief-making gnome-like men of lore have discovered gold and will do whatever it takes to horde their treasure!
"Creatures Uncaged" is inspired by the legends of mythical creatures said to inhabit Pennsylvania's forests. Professor Stanley Darkstone and his traveling sideshow, introduced last year, has been overtaken (if not devoured) by this mysterious menagerie of bizarre beasts, now running loose and hungry for human flesh.
And "Twisted Carnevil" introduces a grotesque carnival of nightmares that exists in another dimension. Here, a funhouse becomes a madhouse as guests attempt to escape an evil netherworld that becomes all too real!
"We approached each haunted house like a dark ride," said Zeitgeist president and chief creative officer and former Disney Imagineer Ryan Harmon, who wrote the narrative for each house. "Your ride vehicle is your feet as you trepidatiously traverse a series of immersive environments as a compelling multimedia story unfolds around you, culminating in a spectacular finale every time! Our goal was not just the easy physical scare, but an emotional scare that will haunt your dreams."
"We wanted to create thrilling experiences that are unique to Pennsylvania and thus to Hersheypark," said Zeitgeist executive vice president and chief art director — and Disney icon — Joe Lanzisero. "We spent a lot of time researching local lore, as well as visual vocabularies we didn't see in existing Halloween attractions. Of course, Hersheypark's natural forested and creek-side setting – especially in the autumn – provided an already dark palate on which to paint."
Zeitgeist's contributions to Hersheypark's Dark Nights can be experienced through October 29, 2023. Visit www.hersheypark.com/darknights for more information.
ABOUT ZEITGEIST:
Located in the epicenter of the world's location-based entertainment hub in Pasadena, California, Zeitgeist Design & Production creates UX-IRL – User eXperiences In Real Life. The Zeitgeist team is comprised of former executive-level Disney Imagineers who have spent an average of 40 years conceiving, designing, producing, and building well over $12 billion in successful and beloved rides, shows, attractions, museums, brand centers, and other immersive experiences for Disney, Universal, Warner Bros., Sea World, Chimelong (China), and dozens of developers and owner/operators worldwide. 
For more information, visit Zeitgeist-USA.com
ABOUT HERSHEY ENTERTAINMENT & RESORTS:
Hershey Entertainment & Resorts (HE&R) is a world-class entertainment and hospitality company dedicated to preserving the legacy of Milton S. Hershey. Founded in 1927 by Hershey, HE&R and its subsidiaries own and/or operate the Hersheypark Entertainment Complex, Hersheypark Arena & Stadium, ZooAmerica North American Wildlife Park, Hershey Bears AHL Hockey Club, GIANT Center arena, The Hotel Hershey, Hershey Lodge, Hersheypark Camping Resort, The Spa at The Hotel Hershey, MeltSpa by Hershey, Hershey Country Club, and Hershey Golf Collection.
For additional information about HE&R, visit www.HersheyPA.com
Media Contact
Company Name: Zeitgeist Design & Production
Contact Person: Audrey Boyce
Email: Send Email
Country: United States
Website: www.otterpr.com