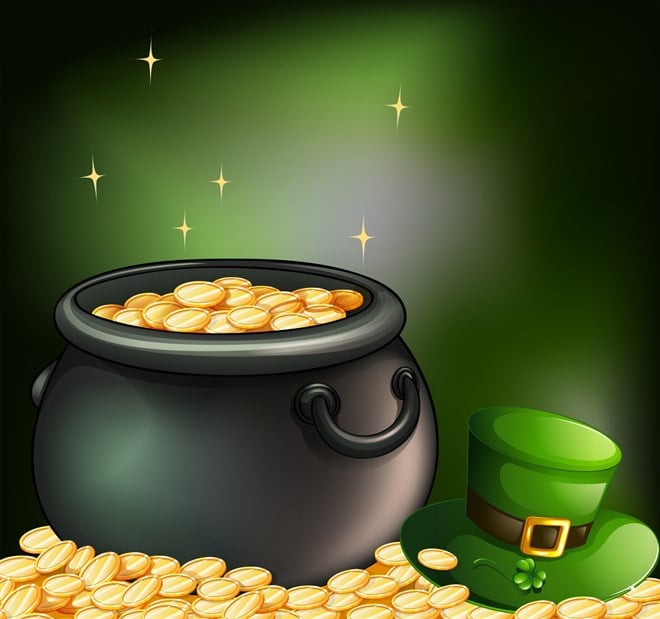 For St. Patrick's Day, you might crack open a Guinness brewed by Diageo PLC (NYSE: DEO). If that inspires you to investigate how Irish stocks may fit into your portfolio, you have quite a few to choose from. 
We'll review a few top performers listed on major U.S. exchanges.
While Guinness is one of the most prominent products of Ireland, there are several U.S.-listed Irish stocks worth celebrating as the world devotes a day to Irish culture. Diageo is based in the U.K., which is not always a selling point among true Ireland aficionados. 
It's possible to buy a basket of Irish stocks by using the iShares MSCI Ireland ETF (NYSEARCA: EIRL)
This ETF is pegged to an index of companies based in Ireland. Many of these stocks are only available in the U.S. over the counter, but a few are listed as American depositary receipts on major exchanges, such as the Nasdaq or NYSE. 
The Irish stock index is outperforming the S&P 500, with a year-to-date gain of 12.22%, versus the S&P 500's 2023 return of 1.79%.
Top holdings include:
In general, it's best to zero in on stocks available on the major exchanges, but in the list above, there may be a couple of cases where you may want to consider a stock available over the counter.
Flutter Entertainment
You've probably never heard of this over-the-counter-listed company, but you're almost certainly familiar with one of its properties, FanDuel. Flutter operates a range of online and in-person sports books throughout the globe. In its most recent earnings report, the company cited growth in the U.S. as a key revenue driver.
Flutter is considering listing its stock on a major U.S. exchange, which would be a boon in terms of raising capital. Industry analysts say that would be a shakeup to the U.S. publicly traded gaming industry because it would mean the entry of a huge global player. 
CRH
This is yet another unfamiliar name, but CRH is a prominent manufacturer of building materials, with locations throughout the globe, including the U.S. 
The NYSE-listed stock has a market cap of $37.53 billion; if it were based in the U.S., it would be an S&P 500 component. Its chart looks good right now, as the stock is getting 50-day support after pulling back from a February breakout and subsequent rally. 
Revenue and earnings have slowed recently, but Wall Street expects a 1% increase in profit this year, to $3.78 a share. Next year, that's seen rising another 11%. 
Ryanair
You could consider Ryanair the Southwest Airlines of Europe, although Southwest is more profitable due to U.S. pricing. Ryanair is known for efficiency and avoided holiday-season meltdowns like its U.S. counterpart.
Ryanair began forming a consolidation in February. It's corrected 13% so far from peak to trough. Shares got slammed the week of March 13, along with the broader market, but the stock's prognosis is good. 
It's currently outperforming all the major U.S. carriers when it comes to price appreciation. 
MarketBeat analyst data show a "moderate-buy" rating, with a price target of $111, an upside of 25.44%. 
Revenue growth has been slower in recent quarters, although in 2022, the comparisons over 2021 were easy. Wall Street expects Ryanair to earn $7.74 a share this year, up from a loss of $0.75 a share in 2022. Next year that's seen rising by 1% to $7.79 a share. 
Global Diversification
While it's a great idea to diversify globally, be sure that your holdings have a specific role in your portfolio. At this juncture, the Irish EIRL ETF can potentially boost a return above what you see with the S&P 500. A big chunk of that is due to the strong performance of CRH, which comprises 15.5% of the ETF.