Volunteers from the Church of Scientology of Los Angeles participate with the LA Chapter of The Way to Happiness Foundation to take on the problem of graffiti and litter in the Hollywood Area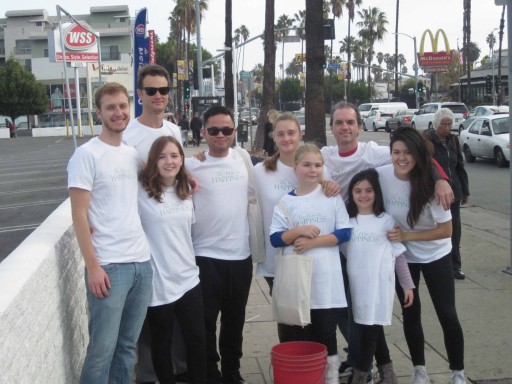 Hollywood, CA - January 25, 2016 - (
Newswire.com
)
​Volunteers with the Los Angeles Chapter of The Way to Happiness are taking on the graffiti and litter problem plaguing the area. Walk down any street in the Hollywood area and you will be accosted with graffiti, tagging, and lots and lots of trash including drug paraphernalia and syringes. 
Not only does graffiti look bad, it is also dangerous.  Gang graffiti marks a neighborhood as a particular territory.  Anyone on the street or in their homes in that area become fair game for drive-by attacks by rival gang members.  Per the LAPD, "A rival gang identifies everyone in a neighborhood as a potential threat.  Consequently, innocent residents are often subjected to gang violence by the mere presence of graffiti in their neighborhood."
Additionally, the City of Los Angeles spends $7 million of taxpayer's dollars each year to attempt to handle the problem.
The LA Way to Happiness Chapter has waged an ongoing battle against trash and litter, regularly visiting local parks and neighborhoods to get them cleaned up including Barndsale Park, McArthur Park, and Santa Monica Beach to name a few.  They recently attacked graffiti and trash in the area of Sunset Blvd and Western, removing tags from sidewalks, walls, fences, traffic signs, newspaper boxes and storefronts.
For their continued efforts, Mitch O'Farrell, Councilmember, 13th District, awarded The Way to Happiness Foundation a Certificate of Commendation which reads,
"On behalf of the City of Los Angeles and the constituents of the 13th Council District, I would like to commend The Way to Happiness Foundation for its programs to increase social responsibility and help the people of Los Angeles lead healthier and happier lives.  Your leadership is outstanding and further helps our common goal of making our city a better place in which to live, work and play."
The Way to Happiness is a non-religious common sense code for living written by humanitarian and philosopher L. Ron Hubbard to create a safe environment for all, regardless of faiths, cultures and differences.  Over 100 million copies have been distributed in 97 languages to 171 different nations.  For more information, visit www.thewaytohappiness.org. 
The Los Angeles Chapter of The Way to Happiness Foundation welcomes any volunteers who would like to participate in helping to clean up our neighborhoods and streets.  If you are interested, contact Betsy Davis, Director of Public Outreach at the Church of Scientology Los Angeles for more information. The Church and its members are pleased to share the tools for happier living contained in The Way to Happiness with all who share the goal of a better world.
Contact: Betsy Davis, Director of Public Outreach
Church of Scientology Los Angeles                                                                 323.953.3200​
Contact Info:

Church of Scientology International
6331 Hollywood Blvd. Suite 1200
Los Angeles
CA 90028
United States
Press Contact:
Luis Gonzalez
(323) 960-3500
Press Release Service by
Newswire.com
Original Source:
Volunteers Fight Urban Decay