Tech Sector Dominance: Is there an End in Sight?
July 30, 2018 at 16:48 PM EDT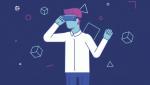 By David Haviland I am sitting here at my desk on another nice sunny July day. With the weekend fast approaching, motivation can be difficult to come by. I'm sure many, specifically in the financial industry, can relate. I've always found that the best way to keep myself motivated is to have a...