Is it Time to Buy Turkey?
August 17, 2018 at 16:10 PM EDT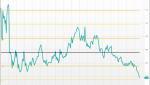 By Kostya Etus, CFA – Portfolio Manager ETFs are a modern marvel, allowing investors to allocate to exposures such as individual countries of all shapes and sizes, including Turkey, through the iShares MSCI Turkey ETF (TUR). Turkey has been beaten up, no question about it, but is the time right to...