Is There More Hurt Ahead for Natural Gas or Can It Heat Up?
December 03, 2019 at 11:17 AM EST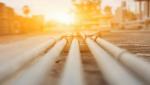 As the Christmas holiday starts getting into full swing, bullish natural gas traders are hoping that a winter wonderland, particularly of the extreme variety, can get nat gas prices moving higher or will there more hurt ahead? Per a CNBC report, future prices for natural gas "fell to a one-month...