Will The Return Of Sports Betters Boost These ETFs?
June 23, 2020 at 11:01 AM EDT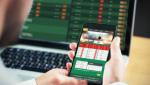 During the multi-month shutdown forced by the Covid-19, states' collection of gas, sales, and gaming taxes were hurting. Now coffers are running light, and casinos are starting to open, prompting some analysts to predict that even more states will approve internet casinos and/or sports betting as...