Can Business Development Help Develop Your Portfolio?
November 07, 2020 at 13:23 PM EST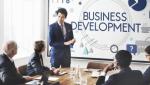 Business development companies (BDCs) are playing a vital role amid the COVID-19 pandemic by getting much-needed financing to small, medium-sized, or distressed companies in need of cash. ETF investors looking to get in on the BDC action can do so with the VanEck Vectors BDC Income ETF (BIZD). BIZD...