Tech Dividend Growth Is on Fire. Is It Time to Tap 'TDIV'?
April 09, 2021 at 07:00 AM EDT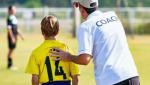 Growth is essential when investing for dividends, meaning investors should evaluate companies with strong balance sheets and the ability to grow payouts. Technology checks those boxes. Enter the First Trust NASDAQ Technology Dividend Index Fund (NasdaqGS: TDIV). TDIV tracks the NASDAQ Technology...