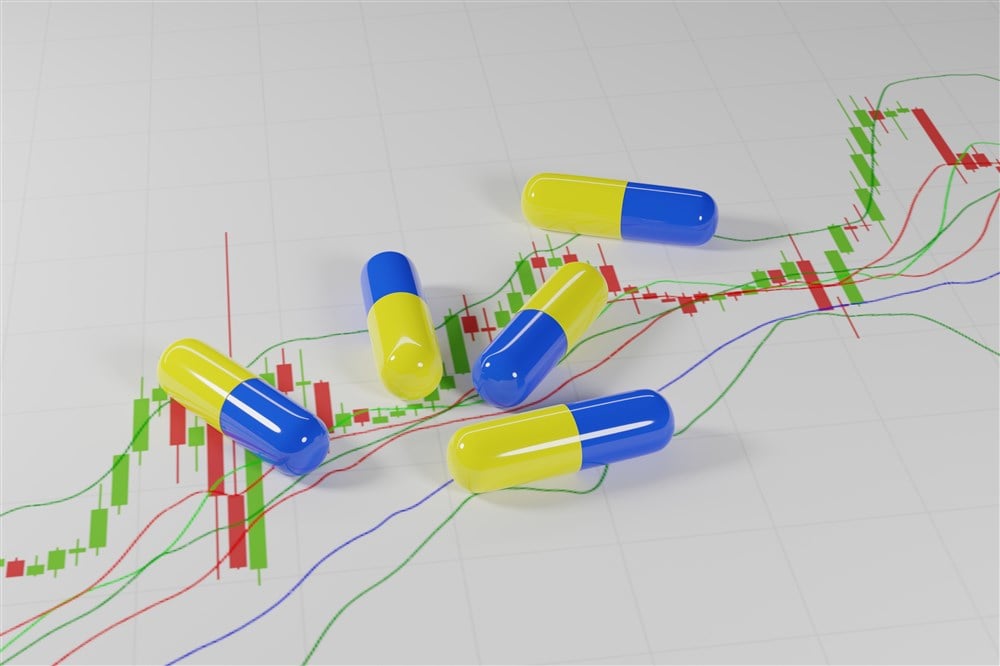 Pharmaceutical giant Eli Lilly & Co. (NYSE: LLY) stock has been on a tear, trading up 57.7% year-to-date (YTD). The company is firing on all cylinders with its leading medications and a highly anticipated pipeline of hopeful game-changing drugs. Its portfolio of top drugs targets chronic illnesses and disorders ranging from type-2 diabetes, obesity, plaque psoriasis, and inflammation to breast cancer. It has promising medications for treating Alzheimer's disease, leukemia, Crohn's, and ulcerative colitis. Its off-label weight-loss drug, Mounjaro, has proven to be more effective than Ozempic, which can't stay on the shelves due to huge demand. The strength of its portfolio and stock has been great for existing shareholders, but is it safe for new investors?
Top Four Selling Drugs
Eli Lilly's top four selling medications in its Q2 2023 earnings comprised nearly half of its quarterly revenues. Its top-selling drug, Trulicity (Dulaglutide), is a once-weekly injectable treatment for type-2 diabetes that increases insulin production to reduce glucagon release. Sales fell 5% YoY, with revenues of $1.81 billion in Q2 2023. It's breast cancer therapy Verzenio sales rose 57% YoY to $926.8 million. It blocks CDK 4/6 activity, which plays a crucial role in cancer cell growth. Its plaque psoriasis treatment Taltz revenues grew 16% to $703.9 million. Its type 2 diabetes medication, Jardiance, saw 45% YoY sales growth to $703.9 million. It works by blocking the reabsorption of glucose by the kidneys.
Skyrocketing Sales for Mounjaro (Tirzepatide) for Weight-Loss
Eli Lilly's type 2 diabetes treatment and off-label weight-loss drug Mounjaro (Tirzepatide) generated $979.7 million in revenues, up 72% sequentially and up 2,126% YoY. It's worth noting that Mounjaro was launched in May 2022, so sales were made during only a portion of Q2 2022. The weight-loss treatment segment has been on a tear driven by unprecedented demand for GLP-1 receptor agonists like Ozempic and Wegovy (Semaglutide) produced by Novo Nordisk A/S (NYSE: NVO). These drugs aren't on the list of Medicare-targeted drugs for price negotiations.
Mounjaro Shows More Efficacy Than Ozempic and Wegovy
Mounjaro is believed to be more effective than Ozempic due to its dual-acting GLP-1 and GIP receptor agonist, leading to less muscle loss. Mounjaro increases insulin production while decreasing the release of glucagon. GIP promotes fat loss by stimulating lipolysis. Since muscle weighs more than fat, Ozempic and Wegovy may show more weight loss, but nearly half of the weight loss is muscle.
Mounjaro's latest clinical trials indicated more weight loss, with patients achieving 26.6% over 84 weeks compared to Ozempic's 15% body weight loss. However, the patients in Eli Lilly's SUPMOUNT-3 Tirzepatide clinical trials also underwent an intensive regimen of exercise, a low-calorie diet and weekly counseling meetings. GLP-1 drugs reduce the risk of heart attacks and strokes and potentially help curb alcoholism.
Firing on All Cylinders
On August 8, 2023, Eli Lilly reported its Q2 2023 earnings for the quarter ended in June 2023. The Company reported an earnings-per-share profit of $2.11, beating consensus analyst estimates for a profit of $1.98 by 13 cents. Revenues rose 28.1% year-over-year (YoY) to $8.31 billion, beating analyst estimates of $7.58 billion.  
Eli Lilly Raises Full-Year 2023 Guidance
Eli Lilly raised its full-year 2023 guidance. It sees EPS of $9.20 to $9.40 versus prior guidance of $8.65 to $8.85 and $8.73 consensus analyst estimates. Eli Lilly expects full-year 2023 revenues of $33.4 billion to $33.9 billion, from prior guidance of $31.2 billion to $31.7 billion versus $31.44 billion consensus analyst estimates.
Eli Lilly CEO and Chairman David A. Ricks commented, "Exciting scientific breakthroughs, such as TRAILBLAZER-ALZ 2 in Alzheimer's disease and SURMOUNT-3 and -4 in obesity, encourage us to continue to make significant investments that support our new medicines, including multiple launches expected by the end of 2023 to help more patients around the world."
Alzheimer's Disease Phase 3
Eli Lilly completed positive Phase 3 TRAILBLZER-ALZ 2 trials for its Alzheimer's disease drug Donanemab. It showed significant cognitive and functional decline slowing in patients with early symptomatic Alzheimer's disease. It submitted its application for approval with the U.S. Food and Drug Administration (FDA) and the European Medicines Agency. It expects a decision by the end of 2023.
Eli Lilly analyst ratings and price targets are at MarketBeat.
Find Eli Lilly's peers and competitors with the MarketBeat stock screener.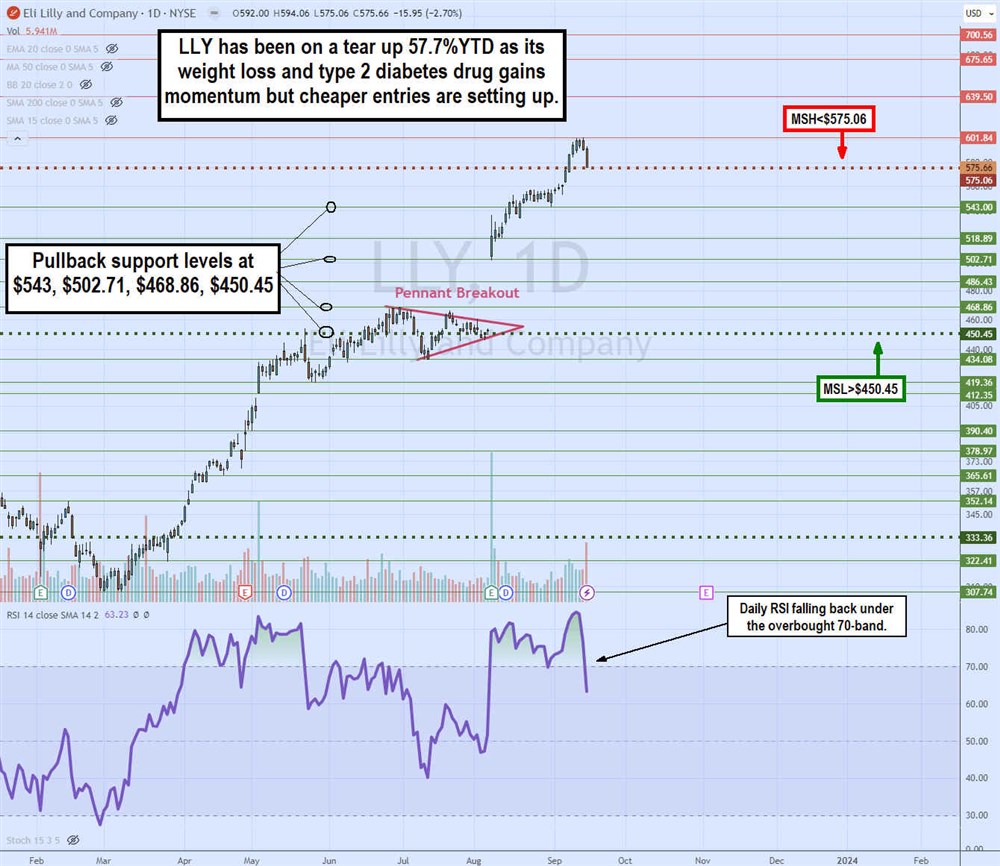 Daily Pennant Breakout
The daily candlestick chart on LLY illustrates the parabolic flagpole rise and subsequent pennant breakout pattern triggered by its Q2 2023 earnings results and raised guidance. LLY shares rose sharply from $307.74 in March 2023 to a peak at $468.86 in June 2023, forming the flagpole. LLY shares pulled back to $434.08 and chopped, making lower highs and higher lows towards the apex point. The daily market structure low (MSL) breakout triggered through $450.45 on its Q2 2023 earnings blowout, resulting in a 15% price gap and grinding to a peak of $601.84 on September 14, 2023. The daily market structure high (MSH) triggered formed at $575.06. If triggered, then a pullback is expected, especially since the daily relative strength index (RSI) momentum oscillator fell sharply through the overbought 70-band. Pullback support levels are $543, $502.71, $468.86 and $450.45 daily MSL trigger.