Live on Kickstarter, Dropel Offers On-The-Go Function, Water & Stain Repellent, Eco-Friendly - Brandless, Lifeproof & Backed by a 5-year Guarantee.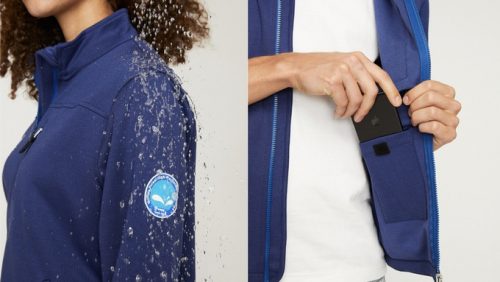 New York City, NY, United States - December 16, 2019 /MarketersMedia/ —
Dropel, the innovative fabric maker on a mission to create sustainably enhanced natural fabrics with the performance properties of synthetics has introduced their first ever high–performance collection— CottonShield™. The company is live on global crowdfunding platform Kickstarter to increase awareness of microfiber pollution and bring their technology directly to consumers.
Each time a polyester garment is washed, 700,000 microfibers are released into the water and food supply. Dropel's breakthrough fabric uses natural cotton— offering softness and breathability, while combining the functionality of polyester with no microfiber shedding.
"After learning how harmful polyester is to the environment and witnessing the impact of fast fashion, we wanted to see if we enhance cotton with the functionality while increasing it's life-span," says founder and CEO Simardev Gulati on the inspiration behind the project. "By extending the useful life of clothing by one year, 24% of the garment's carbon emissions are reduced. Thus we aspire to make products that require less washing, reduce energy consumption and do not release microfibers."
"Material innovation is hard, and doing it on natural fabrics while maintaining softness and breathability using no-harmful chemicals is even harder. We have a unique mix of scientists, chemical and textile engineers solving complex problems to create breakthrough products," adds Gulati. "Our CTO is former Head of Innovation at Under Armour and our material developer reigns from a career at Calvin Klein and Victoria Secret.  Our products have been tested, are Bluesign Certified, 100% Fluorocarbon-free and are backed by a 5-year performance guarantee."
Included in the lineup is a vest, pullover hoodie, tech jacket and zip hoodie each in an array of colors with special pricing available exclusively to the campaign's online backers.
Dropel's fabrics are like nothing else on the market. Soft to touch, each piece is designed to require only the most minimal of washing. Its water and stain resistant technology means even the worst of spills are completely avoided. The fabric has been tested using the AATTCC 22 and after 20 washed has scored a 95% rating. This means the fabric needs considerably less washing than traditional pieces; all leading to a nearly quarter carbon reduction yearly.
The New York based company has been known to work with apparel brands such as October's Very Own (Drake's brand), AREA and large retailers. Dropel is backed by Plug & Play Ventures, Oxford Angel Fund, Wharton Alumni Angels and a Fashion for Good company among others. 
The Dropel Fabrics CottonShield™ Collection is currently live and available to support on Kickstarter: www.kickstarter.com/projects/dropel/stain-liquid-and-odor-resistant-sweatshirts-by-dropel
About Dropel Fabrics
We develop and produce performance-enhanced natural fabrics and fibers for branded apparel companies. Our mission is to leverage material science and process technology to bring the performance qualities of synthetics into natural fabrics.
For more information on Dropel Fabrics please visit www.dropelfabrics.com
###
Contact Info:
Name: Chris Woods
Email: Send Email
Organization: Dropel Fabrics
Website: http://www.dropelfabrics.com
Source URL: https://marketersmedia.com/dropel-introduces-the-cottonshield-collectionultrasoft-high-performance-activewear-ecofriendly-with-no-microfiber-shedding/88939561
Source: MarketersMedia
Release ID: 88939561