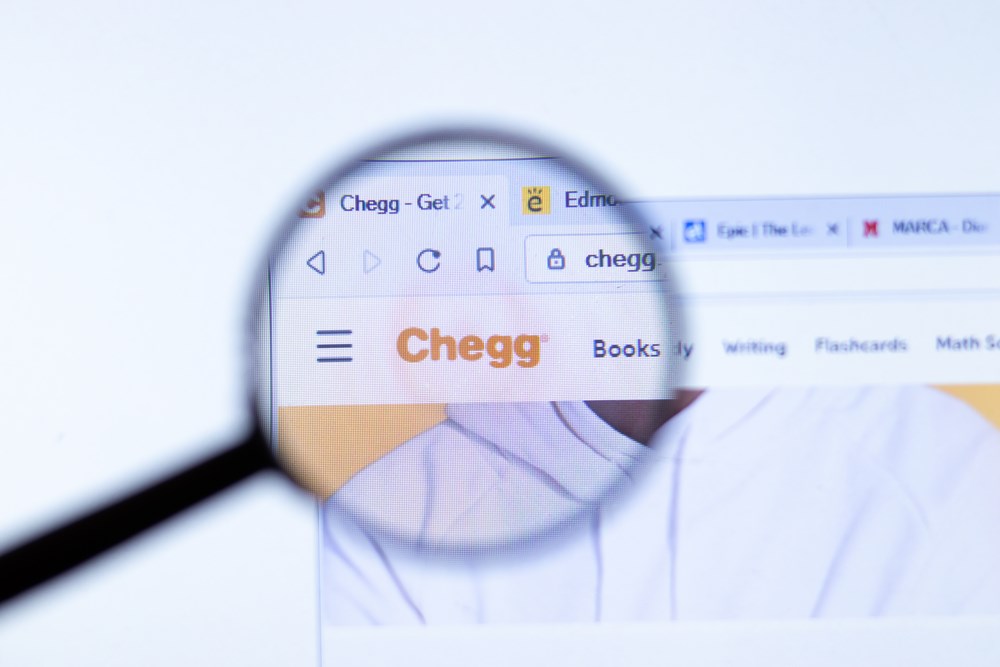 Personalized online student learning platform provider Chegg Inc. (NYSE: CHGG) shares were crushed as it warned that growing ChatGPT stocks and other AI tools usage was hurting its business. Artificial intelligence (AI) has garnered the mainstream spotlight in 2023 with the rumblings between Microsoft Corp. (NASDAQ: MSFT) and Open.ai's  ChatGPT versus Alphabet Inc. (NASDAQ: GOOGL) and Google's Bard AI. A growing concern is that AI will disrupt and potentially cripple roles in many industries. This has spawned backlash and actions to combat further encroachment by AI as incumbents try to protect their turf.
AI Threatens Educational Institutions
There's been much speculation about which industries will be hit hard by the evolution of AI. Education was highlighted as one industry in jeopardy with the growing adoption of AI. Educational institutions were some of the first to restrict the use of ChatGPT, as students brazenly used the tool to write term papers and cheat on exams.
Chegg confirmed its impact, blaming it for the drop off in new subscriptions to its platform beginning in March 2023. Other online educational technology stocks include Stride Inc. (NYSE: LRN), 2U Inc. (NASDAQ: TWOU), and Pearson Plc (NYSE: PSO).
Humble Beginnings
Chegg was initially started in 2005 as an online textbook store that enabled students to buy, rent and sell textbooks. It has since grown into a complete personalized student learning platform offering various academic tools, including live tutoring, test preparation and access to over $1 billion in scholarships. Critics argue that it has increasingly mutated more into a borderline cheating tool platform to keep its customers as it fends off competition from sites that do cross the line.
Cheating Tool?
Chegg's platform could be a cheating tool enabling students to access plagiarized writings and cheat on exams. A student could take a snapshot of an exam question and upload it to Chegg to get a Chegg Expert to provide the answers. Actual exams and tests are also shared. Chegg had been recording and turning over information about students, including student names, IPs and email addresses, who violated its honor code by cheating or uploading unauthorized exam questions and materials.
However, it changed its policy on Aug. 22, 2023, to limit the information shared with schools. Now, it only provides dates and time stamps of when questions are posted and answered to "protect" student privacy. There are many "cheating" sites, including Bartleby and Course Hero, where course material is shared and exam questions are answered for a fee. This is the dirty secret of education and tutoring platforms.
Is ChatGPT Responsible for Falling Sign-Ups?
Chegg saw normal new sign-ups at the beginning of the year. However, it noticed a drop-off of new sign-ups starting in March 2023, suggesting the "significant" interest in ChatGPT as the culprit. The company has shifted resources to embracing AI by releasing the GPT-4-powered CheggMate beta in May 2023. Rather than pay Chegg's subscription fees to use its study tools, students opted to use ChatGPT. Chegg believes AI is just as "transformational" as previous technology shifts, including the internet and mobile.
Is Chegg Just Making Excuses?
The Chegg study pack subscription costs $19.99 monthly while ChatGPT 3.5 is free, but ChatGPT premium with access to GPT-4 costs $20 monthly. Many competitors in the student study market and so-called "cheat" sites could be siphoning away its business. Chegg recently changed its stance regarding student privacy and cheating by limiting the information it turned over to schools for alleged cheaters. Even Khan Academy has a super AI tutor, Khanmigo, service available for $20 per month. Is Chegg blaming AI for cover-up the shrinking demand for its services due to the growing competition and options elsewhere?
Going All-In on AI
Chegg's new CheggMate AI tool integrates Chegg's platform of more than 150,000 experts and proprietary datasets with the ChatGPT-4 model to create a highly personalized learning experience. It's still being determined as to how much of an improvement it can make. There are no details on the pricing terms and how it will impact the bottom line. It could generate an extra source of income or be used as a customer retention tool. Time will tell. But Chegg has fully embraced AI.
Chegg CEO David Rosensweig commented, "As artificial intelligence technology continues to evolve at a rapid pace, we are embracing it aggressively and prioritizing our investments to meet this opportunity. We believe we are in the best position to take advantage of the advancements in AI for the benefit of students because we can leverage our proprietary data, our 150,000+ experts, and our decade-plus years of experience as we launch CheggMate."
Falling Subscriptions
On May 1, 2023, Chegg released its first-quarter 2023 results for the quarter ending March 2023. The company reported an earnings-per-share (EPS) profit of $0.27, excluding non-recurring items, versus $0.26 consensus analyst estimates, a $0.01 beat. Revenues fell (7.2%) year-over-year (YoY) to $187.6 million, beating consensus analyst estimates for $185.17 million. However, revenues fell sequentially from $205.19 million in Q4 2022. Usually, the third quarter has the lowest revenues due to the summer vacation period. Subscription service revenues fell (3%) YoY to $165.4 million. Net Income was $2.2 million. Total subscribers fell (5%) YoY to 5.1 million.
Lowered Q2 2023 Guidance
Chegg lowered its Q2 2023 revenue guidance of $175 million to $178 million versus $193.65 million consensus analyst estimates. Subscription service revenues are expected between $59 million to $162 million. Gross margins are expected between 72% to 73%, and adjusted EBITDA in the range of $53 million to $55 million.
Analyst Actions
Keybanc Capital Markets downgrades CHGG to Sector Weight. On May 2, 2023, Jeffries cut its rating from Buy to Hold with an $11 price target down from $25. Barrington Research cut its rating from Outperform to Market Perform, citing a reduced near-term expectation and lack of visibility. Chegg analyst ratings and stock price targets can be found at MarketBeat.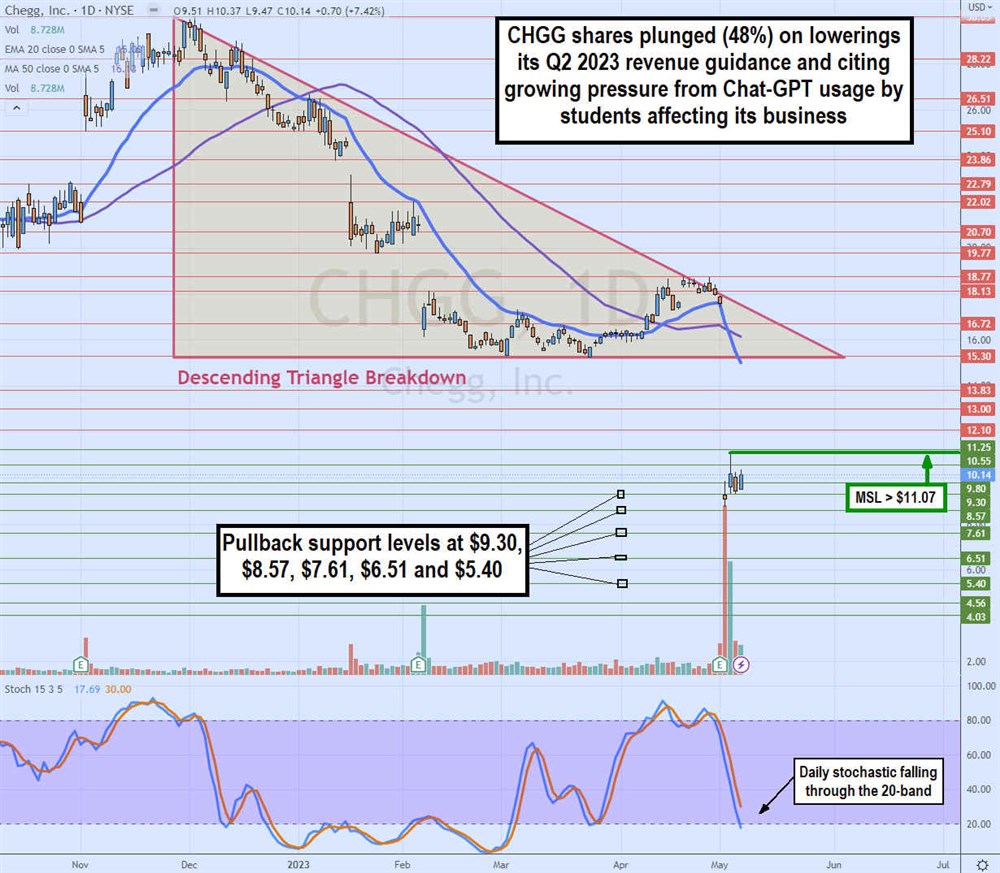 Daily Descending Triangle Breakdown
CHGG started to form its daily descending triangle after peaking at $30.05 on Dec. 2, 2022. Shares plunged to a low of $15.30 on March 2, 2023. Shares held support on the retest of that flat bottom low on March 24, 2023, as they chopped sideways until they staged a breakout rally to the falling triangle trendline at $18.77 on April 20, 2023.
Shares continued to attempt a breakout from the daily descending triangle, comprised of a flat-bottom trendline and a falling diagonal trendline that meet at an apex point. Shares collapsed more than (-40%) in reaction to its Q1 2023 earnings release on May 2, 2023. A daily market structure low (MSL) trigger formed at $11.07 the following day. The daily stochastic continued to fall through the 20-band. Pullback support levels are at $9.30, $8.57, $7.61, $6.51 and $5.40.