Ofgem has lowered the energy price cap, resulting in a 40% reduction in the average dual-fuel tariff. Despite the price cut, many households will still struggle with high energy costs, and around 6.6 million households in the UK will remain in fuel poverty.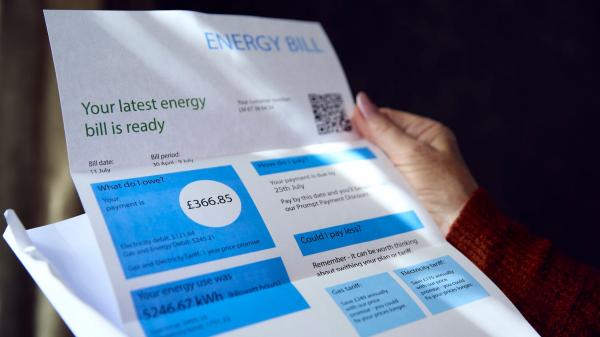 Guildford, United Kingdom - June 30, 2023 —
Energy regulator Ofgem has reduced its cap on the typical annual dual-fuel tariff from £3,280/year to £2,074/year. The new price cap is effective for July 30-September 2023 and comes in the wake of a slump in wholesale gas prices. However, this drop in energy prices is likely to offer little relief to the households struggling the most, reports Yahoo! News.
The new price cap for the average use of electricity and gas, known as dual-fuel, indicates a 40% price reduction compared to the previous level. The article claims that most Britons will experience a decrease of only 17% in their energy costs due to the government's energy price guarantee scheme. This scheme has maintained the average annual energy cost at £2,500 since October. In hard numbers, energy bills will drop by around £426 for the average household despite the price cap dropping by £1,206. Additionally, the government is ending the £400 discount on energy bills between October and March last winter. That means that those who struggled to pay their bills over winter will remain hard-pressed.
Ofgem's energy cap only restricts the rates suppliers can charge per unit of gas and electricity, not the total energy bill. So, households could still pay dual-fuel energy bills above the price cap of £2,074 if their energy consumption exceeds the typical amount. Besides, households are also likely to pay an added £10 annually on their energy bills from this October. As part of its effort to prevent supplier bankruptcies, Ofgem has put forward a plan to raise the supplier profit from 1.9% to 2.4%. With this, the profit the energy suppliers can make per household annually will go from £37 to £47.
Ofgem's recent price cap cut will make around 27M households see a modest decline in their energy bills this summer. However, experts stress that there are still steps to be taken. Families have encountered a significant upsurge in energy costs since the Russian invasion of Ukraine exacerbated the supply chain issue, making it difficult for many to absorb the financial burden. Despite Ofgem's move to cut the energy price cap, an estimated 6.6M households across Great Britain will remain in fuel poverty and struggle to pay bills, claims National Energy Action.
Emily Fry, an economist at the Resolution Foundation think tank, stated, "Expected energy costs for a typical household this year are now on course to be around £2,100 - still up by almost 80% on what families were used to pre-crisis. A return to the level of bills households paid pre-crisis isn't arriving anytime soon. The case for developing more sustainable support with energy bills, such as a social tariff for vulnerable households, therefore remains strong."
Simon Francis, the coordinator of the End Fuel Poverty Coalition, said: "The UK government needs to use the summer to fix Britain's broken energy system because, for millions of people, the energy bills crisis is far from over."
"Prices are moving in the right direction," Jonathan Brearley, the chief executive of Ofgem added. "However, people are still finding it hard. The cost of living crisis continues, and these bills will still be troubling many people up and down the country. Where people are struggling, we urge them to contact their supplier who will be able to offer a range of support, such as payment plans or access to hardship funds."
The issue is, the bills that consumers pay each month don't necessarily reflect the current energy price on the wholesale market since suppliers procure energy in advance to offer fixed rates and meet the anticipated demand. In other words, the benefits of decreased price cap in response to dropping wholesale prices are not reflected in consumer energy bills immediately. In such a situation, consumers are asked to keep their energy consumption in check reasonably.
People are encouraged to turn down the flow temperature on their boilers to 60° C or below to slash roughly £160 off their annual energy bills. Additionally, investing in insulated lofts and smart appliances can help save on energy bills. Moreover, for households looking to decrease energy waste to reduce energy bills, servicing boilers annually by leveraging services such as Mulgas is a sensible decision. As it stands, energy bills can go a little down during October and spiral upward again in January next year.
"For every £100 you pay on energy now you'll likely be paying £80-85 on energy from July. So that is a real manifest drop in energy bills," said Martin Lewis, Founder & Chair, MoneySavingExpert.com. With no Energy Bill Support Scheme, people will be paying around the same energy bill next winter as they paid last year, even though the rates are cheaper. The typical household might still pay around double the rate for the energy they consume than the pre-crisis period, according to the article.
Contact Info:
Name: Press Officer
Email: Send Email
Organization: Geeky News
Address: Parallel House, 32 London Road, Guildford, Surrey GU1 2AB, United Kingdom
Website: https://www.geekynews.co.uk/

Source: PressCable
Release ID: 89101285
If you detect any issues, problems, or errors in this press release content, kindly contact error@releasecontact.com to notify us. We will respond and rectify the situation in the next 8 hours.