Real Life Reality is gearing up to release its 2nd installment of the Real Life Franchise, Real Life & Music. Real Life & Music is a web reality series that follows the real lives and music careers of eight LGBTQ individuals.
Real Life & Music will showcase these LGBTQ music artists balancing their real lives and their music careers as they grind to have the music career they desire! You will also see these music artists on different levels in their music careers, but music being the common thread between them all is the thing that brings them together and sometimes tears them apart!

You can only watch on our Youtube Channel: Real Life Reality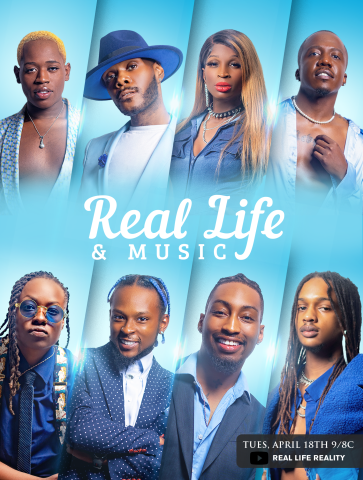 This season we will reintroduce you to Ty Valentino & Bryson B Money from Real Life & Philanthropy Season 2. They will be joined by Reb3l, Karma Theblksheep, Lodi Bmore, DuBlaVaeè, IAMVO, and Chrissy! for a dramatic season full of real life, music, and a whole lot of drama.

Ty Valentino recently released his album "The Rich Auntie" focused on pushing his new album by doing shows, singles, collaborations, and working behind the music scene co-producing for others.

Bryson B Money recently signed to Sony for an LGBTQ artist compilation album, but things quickly turned upside down with his record deal, which forced him to focus on finding a new record label.

Reb3l a self-made Independent artist focused on releasing new music and taking his music to the next level while weighing his options for new management and even being signed to a label.

Karma Theblksheep focused on starting over in her real life and music career after losing out on a million dollars in a Go-Fund-Me Scheme attached to her life story.

Lodi Bmore focused on expanding her reach and catalog in her music career by managing new artists while taking her career to the next level.

DuBlaVaeè, new to the Atlanta music scene, focused on making a name for himself in the Atlanta music scene and even amongst this new friend group full of established music artists.
Media Contact
Company Name: Real Life Reality
Contact Person: Gregory Ruffin
Email: Send Email
Phone: 678-334-9828
Country: United States
Website: www.youtube.com/c/RealLifeReality