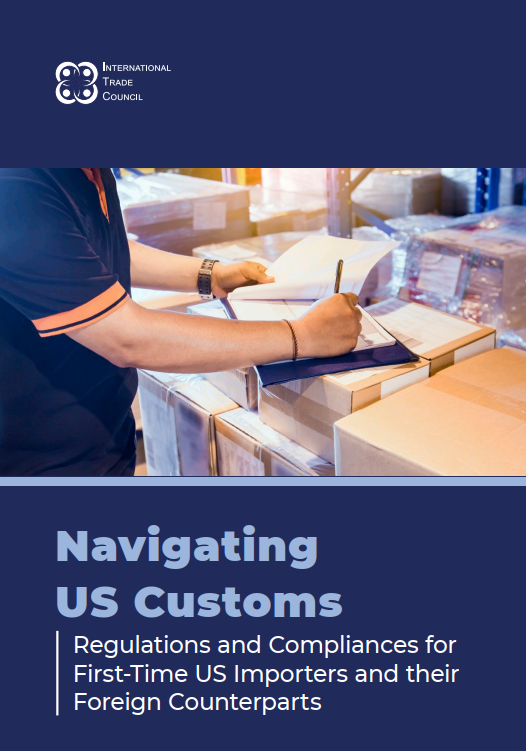 The International Trade Council ('ITC') is pleased to announce the upcoming release of its groundbreaking new free book, "Navigating US Customs, Regulations and Compliances for First-Time US Importers and their Foreign Counterparts." This invaluable guide will be available for free download from the ITC's official website (www.tradecouncil.org) starting next week.
As global trade continues to grow and evolve, an increasing number of businesses are venturing into the realm of importing and exporting goods. Understanding the complexities of US customs, regulations, and compliance requirements is crucial for businesses looking to succeed in the international market. With this in mind, the ITC has crafted a comprehensive guide aimed at demystifying the process for first-time importers and their foreign counterparts.
"Navigating US Customs, Regulations and Compliances" covers essential topics such as understanding tariffs, duties, and taxes, as well as the documentation required for importing goods into the United States. The book also delves into the importance of compliance with various trade regulations, including the Harmonized Tariff Schedule (HTS) codes, and offers guidance on working with US Customs and Border Protection (CBP).
In addition to providing valuable information on import procedures, this guide highlights resources and support available to businesses as they navigate the complex world of international trade.
The ITC's guidebook is particularly timely given the increasing complexity of US customs regulations and compliance requirements. The COVID-19 pandemic has accelerated the pace of change in the global economy, leading to the implementation of new regulations and compliance standards. By providing a comprehensive overview of the current landscape, the guidebook will be an essential resource for businesses looking to navigate these changes successfully.
Moreover, the ITC's guidebook will play a crucial role in promoting fair and ethical trade practices. In recent years, there has been a growing emphasis on the importance of sustainable economic growth and environmental responsibility. The guidebook highlights the role of trade regulations in promoting these values and provides guidance on how businesses can operate in a way that is socially responsible and environmentally sustainable. By encouraging businesses to comply with these standards, the ITC is helping to create a more equitable and sustainable global economy.
"We are thrilled to provide this comprehensive resource to first-time importers and their foreign counterparts," says Onyx Connor, Director of Publications for the International Trade Council. "Our goal is to make the complex world of international trade more accessible and empower businesses to succeed in the global market."
About the International Trade Council
The International Trade Council (ITC) is a leading global trade organization dedicated to promoting international trade, investment, and sustainable economic growth. With a network of members and stakeholders from various industries, the ITC supports businesses through advocacy, education, and research. By providing resources and fostering collaboration, the ITC aims to create a thriving global business community.
For more information on the International Trade Council, please visit www.tradecouncil.org.
Media Contact
Company Name: International Trade Council
Contact Person: Onyx Connor
Email: Send Email
Country: United States
Website: www.tradecouncil.org