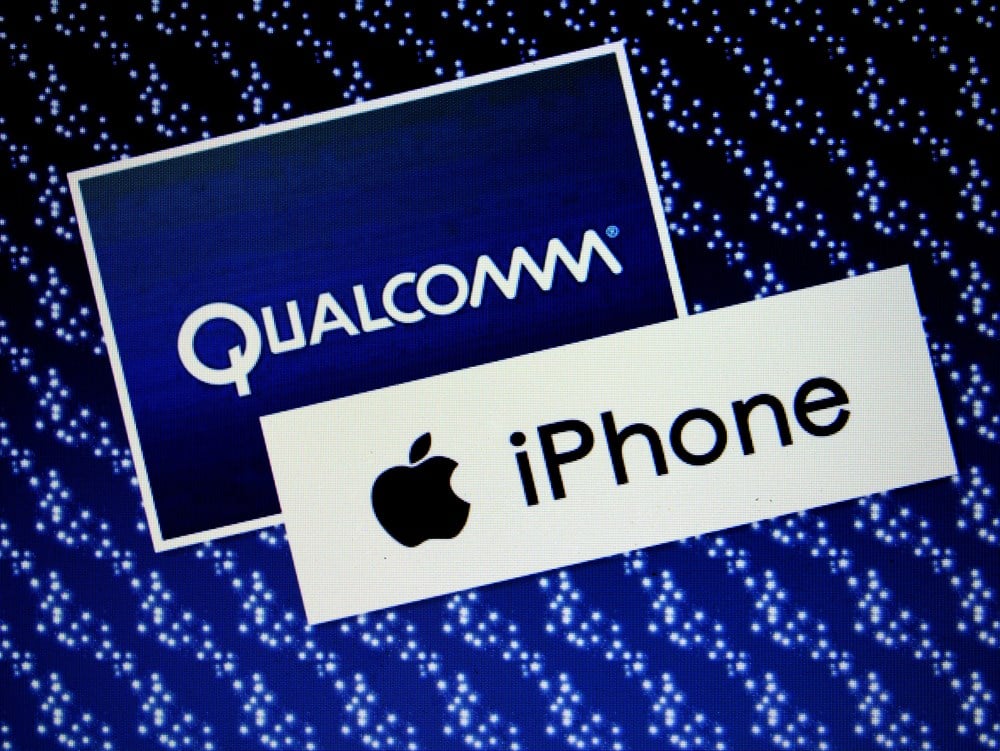 Smartphone chipmaker Qualcomm Inc. (NASDAQ: QCOM) finished higher for the week ended September 15, after inking a five-year deal to produce 5G modems for Apple Inc. (NASDAQ: AAPL).
Qualcomm has been doing business with Apple for years, with analysts estimating that 20% or possibly a little more of Qualcomm's revenue comes from Apple. 
The deal to produce the 5G modems wasn't a shoo-in. 
Qualcomm already makes 5G modems for iPhones, but Apple has been developing its own version of the gear since purchasing Intel Inc.'s (NASDAQ: INTC) smartphone modem business in 2019. 
However, moving to produce its own modems hasn't been as easy as Apple may have thought, as the intricate architecture of Qualcomm's chips means they're challenging to substitute. 
The Apple iPhone 15, released on September 12, incorporates Qualcomm modems, but that was expected. 
Partners Who Also Have Legal Fights
Qualcomm and Apple have a relationship that could be characterized as "frenemies." Sure, they just extended their 5G modem partnership, but the two companies also have a history of legal battles.
In 2019, the companies settled out-of-court over billions in licensing fees and royalties for modem chips. The two were about to go to trial, with Apple pivoting away from Qualcomm chips. It was a complicated case, but Apple objected to Qualcomm's prices and its insistence on licensing fees for its patented chips.
In fact, Apple began using Intel's chips as the dispute wore on, prior to the settlement. It has since returned to using Qualcomm chips, which was part of the settlement, which also included a six-year royalty agreement. 
The new agreement covers smartphones released in 2024, 2025 and 2026. The deal may be extended through 2028. However, Qualcomm officials have said they expect the company to provide Apple with only 20% of the modems for the 2026 iPhone launch, indicating that it expects Apple's business to gradually diminish. 
Qualcomm's handset revenue totaled $5.26 billion in the quarter ended in June. 
Risks of Apple, Samsung Business Declining
In its 2022 annual report, Qualcomm noted that Apple and Samsung Electronics Co. Ltd. (OTCMKTS: SSNLF) were both significant customers. It's always a risk for any company to see declining business from one or more of its biggest purchasers. 
In that same report, Qualcomm noted Apple's purchase of Intel's modem business, saying, "We expect Apple to use its own modem products, rather than our products, in some or all of its future devices."
MarketBeat's Qualcomm analyst ratings show a consensus view of "moderate buy" with a price target of $141.96, an upside of 25.47%. 
Qualcomm's earnings and revenue both declined in the past three quarters. Wall Street has pegged full-year earnings at $6.68 per share, a year-over-year decline of 47%, which is pretty big. 
So what's going on? 
Smartphone Sales Dropping Worldwide
Simple: A global decline in smartphone sales. In an August report, research firm Counterpoint said the global smartphone market declined by 9% year-over-year. 
A sharp drop in purchases by Chinese consumers has led the decline, but sales in the U.S. have also been sluggish, relative to previous years. 
Analysts expect that situation to stabilize, leading to earnings growth of 10% next year, to $7.35 a share. 
In its most recent quarterly report, Qualcomm topped analysts' earnings views, but missed on the revenue side, which you can see using MarketBeat's Qualcomm earnings data. 
On a year-over-year basis, earnings dropped by 39% while sales declined by 23%.
The Qualcomm chart shows you the stock has had trouble gaining any longer-term traction since early 2022, although there have been shorter, tradable rallies. 
Qualcomm's price performance has been lagging other chip designers in its industry, but it's stacked up against AI juggernauts like Nvidia Corp. (NASDAQ: NVDA) and Broadcom Inc. (NASDAQ: AVGO). 
Eking Out a Small Yearly Gain
However, Qualcomm has posted a year-to-date gain of 2.91%. 
That doesn't sound like much when compared with the performance of other computer and technology stocks this year, but as one of the tech-sector grandaddies, which participated in the 1999 dot-com rally, Qualcomm has something many other techs don't: A dividend.
MarketBeat's Qualcomm dividend data shows a yield of 2.83%, and a 21-year track record of boosting the shareholder payout. That means there's some incentive for investors as they wait out the stock's listless performance.