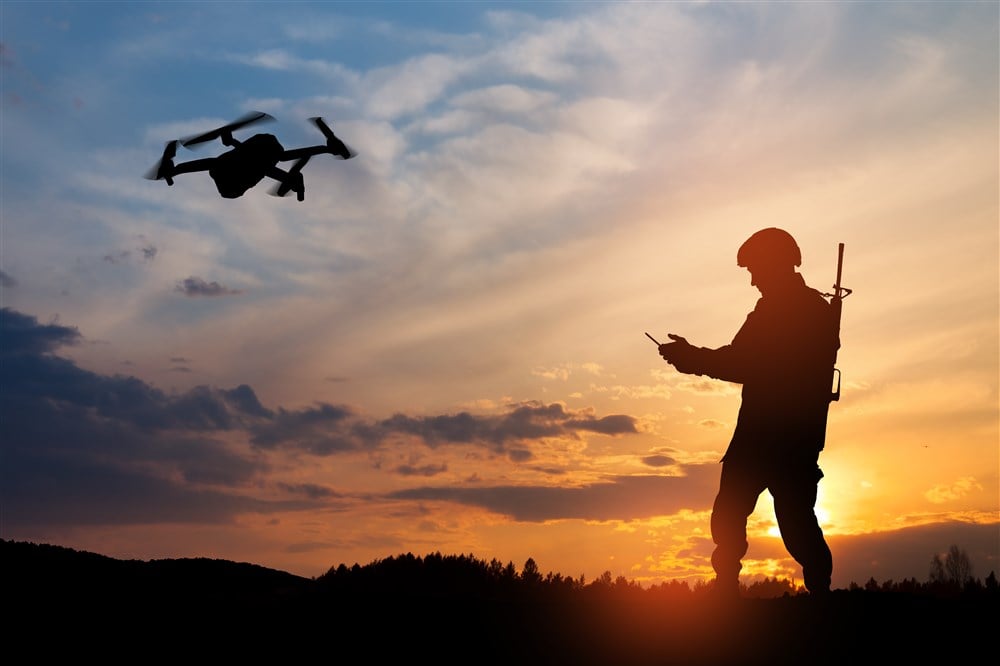 Leading global unmanned aircraft systems (UAS) designer and manufacturer AeroVironment Inc. (AVAV) is riding the artificial intelligence (AI) wave with its intelligent drones. The company supplies its drones to military, government and commercial clients in over 50 countries worldwide. Militaries around the globe use their drones for intelligence, reconnaissance, surveillance and strike missions. Government agencies use the company's drones for law enforcement, disaster relief and border security. Commercial customers use their drones for mapping, aerial photography and inspection. It's also seeing strong demand for its loitering munitions systems (LMS), which are aerial weapons that can wait passively around a target area until the target is located and then engage for attack. They are being deployed in Ukraine with much success, driving LMS sales in allied nations.
Non-Competitors
AeroVironment dominates the small-drone market, staying in its lane, so it doesn't compete with large-drone makers like Kratos Defense & Security Solutions Inc. (NASDAQ: KTOS) and Northrup Grumman Co. (NYSE: NOC). This strategy makes them a potentially attractive acquisition target for a larger player that seeks to grow their footprint in the small-drone space.
Competing with Blacklisted DJI
AeroVironment loosely competes with the world's largest drone maker, China-based Shenzhen DJI Sciences and Technologies Limited, with an $11 billion market cap. The U.S. government blacklisted DJI in December 2021 for national security concerns and its ties to the surveillance of Uighur Muslims in China's Xinjiang region. Ukraine claimed that Russia was using DJI drones to navigate missiles used to kill Ukrainians in the war. The company denies that its drones are designed for combat purposes, are only sold for civilian use and do not meet military specifications. DJI owns an estimated 70% of the global drone market, with sales hitting $30.6 billion in 2022 and expected to climb to $55.8 billion in 2030.
Blowout Quarter
On September 5, 2023, AeroVironment released its fiscal first-quarter 2024 results for the quarter ending in July 2023. The Company reported earnings-per-share (EPS) of $1.00, excluding non-recurring items, versus consensus analyst estimates for a profit of 26 cents, a 74-cent beat. Revenues grew 40% year-over-year (YoY) to $152.35 million, beating consensus analyst estimates of $128.5 million. Funded backlog has grown to $540 million from $424 million, reflecting $270 million in new bookings in the quarter. Gross margins rose to 43%, up from 31% in the year-ago quarter.
Segment Strength
Its strongest segment was unmanned systems, with 45% YoY revenue growth to $98.23 million. It's Puma systems are seeing strong demand overseas, notably from Ukraine. The war in Ukraine has motivated many allied nations to beef up their national defense systems. This drove sales in its loitering munitions systems (LMS), specifically its Switchblade LMS, to rise 34% YoY to $30.9 million. The company will acquire AI-enabled robotics common control systems designer Tomahawk Robotics for $120 million. Thomas Robotics will help to enable multi-domain control of a wider variety of unmanned solutions from a single user interface.
Mixed Guidance
AeroVironment reaffirmed its fiscal full-year 2024 EPS of $230 to $2.60 versus $2.60 consensus analyst estimates. It raised full-year revenue guidance to $645 million to $675 million versus $655.88 million, from earlier guidance of $630 million to $660 million.
CEO Comments
CEO Wahid Nawabi commented, "We delivered record first-quarter results. Revenue climbed 40% year-over-year due to higher shipments across all our business segments, indicative of robust demand for our innovative, intelligent, multi-domain unmanned systems. Strategically managing inventory levels, targeting 60 days of forward supply."
Analyst Actions
On September 6, 2023, investment firm Robert W. Baird upgraded AVAV to Outperform, raising its price target from $95 to $128.
AeroVironment analyst ratings and price targets are at MarketBeat. Find AeroVironment peers and competitors with the MarketBeat stock screener.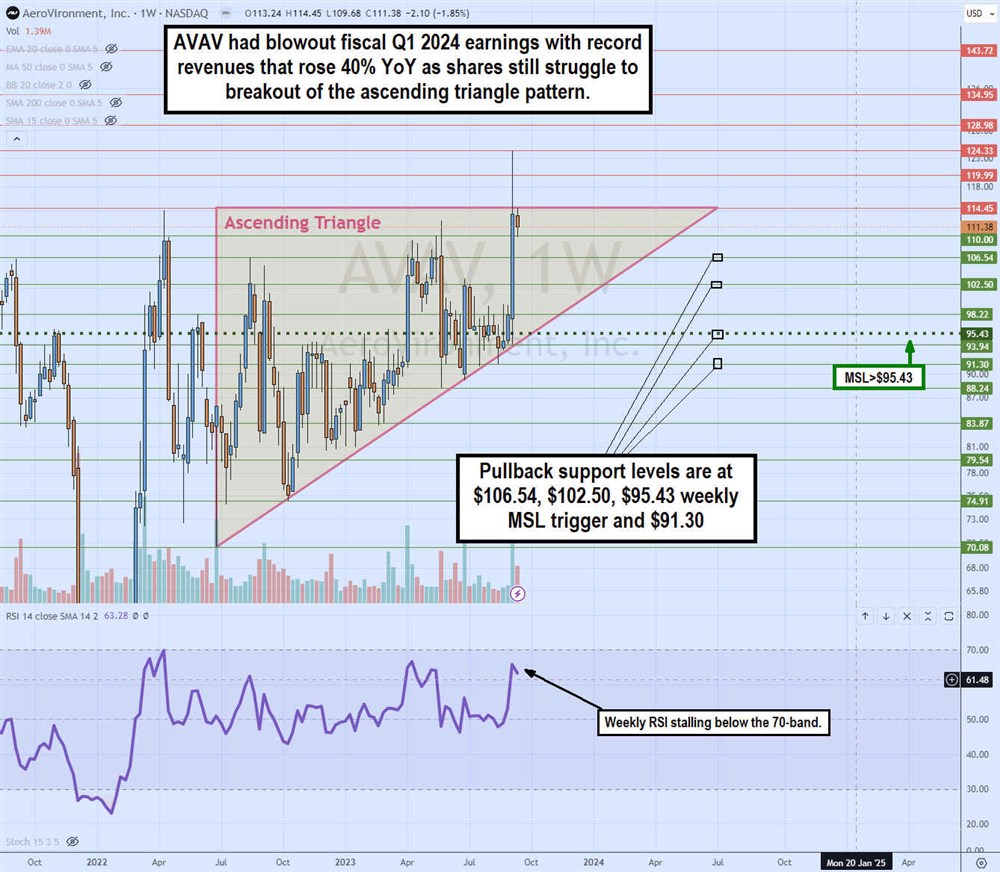 Weekly Ascending Triangle Pattern   
The weekly candlestick chart on AVAV illustrates the ascending triangle pattern that attempted a breakout on its fiscal Q1 2024 blowout earnings report. The flat-top horizontal trendline resistance at $114.45 was formed during its April 2022 peak as shares fell to a low of $70.08 by June 2022. AVAV rallied, making higher lows on pullbacks, creating the ascending trendline of the triangle. The weekly market structure low (MSL) triggered the $95.43 breakout as shares gapped through the flat-top resistance level to peak at $124.33 from its earnings report. However, shares fell back under the $114.45 flat-top trendline again during the reversion. The weekly relative strength index (RSI) stalled at the 63-band as AVAV still meanders within the ascending triangle pattern. Pullback supports are at $106.54, $102.50, $95.43 weekly MSL trigger and $91.30.